If you are already a Member, click here to head directly to My Sea Watch
By becoming a Sea Watch Member today, you will be contributing directly to the study and protection of whales, dolphins and porpoises (cetaceans) in British and Irish waters. Join here!
As a Member you will receive a Welcome email from our Director, Dr Peter Evans, and access to the private My Sea Watch area of the website. Benefits include our quarterly electronic magazine Sea Watcher, monthly Sightings Reports and News Bulletins. In addition My Sea Watch will be regularly updated with additional news and information about the work of Sea Watch and already includes detailed information about some of the 30 species of cetaceans found in the UK and where you could see them. Become a Member for £3.50/month or £42/year.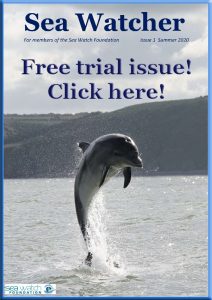 Please consider becoming a Family Member. The additional funding will be extremely valuable and as a thank-you, in addition to all the Member benefits we will also send you Newsplash, our Adopt-a-Dolphin Newsletter, currently monthly, with up to date news about the Bottlenose Dolphins of Cardigan Bay and other interesting information. This is aimed primarily at a younger audience but is still of great interest to our many adult adopters, especially those with families! Watch out for occasional additional benefits too including discounted boat trips! Become a Family Member for £5.00/month. or £60/year.
For those able to become a Premium Member, we offer a number of additional benefits in addition to those of the Family Member. The My Sea Watch Premium area gives access to downloadable high quality digital images, an electronic copy of the Sea Watch Marine Mammal Observers' Handbook and an enhanced monthly Sightings Report with additional detail and analysis. Become a Premium Member for £7.50/month or £90/year.
Give the gift of membership. Do you have friends or family who are interested in helping the protect cetaceans in UK waters? Why not gift membership to them? To give membership as a surprise gift, complete the membership form in your friend's name, but using your email address. You can then announce their gift as a surprise and forward the Welcome email, User Name and Password to them at a convenient time. You can help them log in, using your email and the User Name and Password you created, and they will be able to change the Password and Email Address as they wish. They have a great gift you know they will love and UK whales, dolphins and porpoises have someone else and learning and caring about them! Give the gift of membership – starting from £3.50/month or £42/year.
Please note that whilst we will of course be very happy if you choose to pay monthly we will be even happier if you can afford to pay annually as we will receive more of your contribution due to lower processing fees!